Steel Patios
Perth
Transform your Perth home with a high-quality Colorbond steel patio installation
Experience the difference in customer service with our friendly experts
Talk to our team about enhancing your outdoor space today
We can ensure full council approval and compliance for your project if required
Get a Fast Quote
Perth! Get a fast quote on steel patio pergolas today.
"Service: Landscaping Positive: Professionalism, Punctuality, Quality, Responsiveness, Value"
Janelle Fox
Verified Google Review
"Thank you Michael for your ideas and plans for an affordable backoffice upgrade to our house renovation project."
Suree Sributhet
Verified Google Review
"Thank you Mike for the great home improvement advice/ideas."
Mark
Verified Google Review
"Mike did a great job with my garage repairs. He kept me well informed on what was happening with the tradesmen and I am very happy with the result."
Greg Forbes
Verified Google Review
Steel Pergolas Specialists
Home Improvement Packages specialises in providing our Perth customers with quality Colorbond steel patios. Our experienced teams focus on quality, durability and customisation, creating outdoor spaces that suit your needs and preferences.
Patio living is a big part of the West Australian lifestyle, a result of great weather and our love for outdoor fun. The perfect patio extends your living space, becoming another comfortable social area for friends and family.
We value communication and customer service. Our professionals work with you every step of the way, keeping you in the loop. Your steel patio should be not just a functional addition to your home, but a stylish and long-lasting one.
Whether you envision a cosy outdoor retreat or a spacious entertaining zone, we have the skills and resources to bring your dream patio to life. We can analyse your outdoor area and offer expert advice on premium designs for your space.
With Home improvement Packages, you can trust your Colorbond steel patio will not only enhance the beauty and value of your property but also provide years of enjoyment and relaxation. Reach out to our team to discuss your patio vision.
Fence Installation
Looking for top-notch fencing services in Perth? Look no further than Home Improvement Services! We specialize in providing high-quality fencing...
Steel Pergola FAQs
What are the benefits of choosing Colorbond steel patios for your home?

Steel patios offer exceptional durability and longevity, ensuring your outdoor space will withstand the test of time. They are also highly customisable, allowing you to create a unique and stylish patio design that suits your preferences.
Can Colorbond steel patios be designed to match the existing aesthetics of our home?
Absolutely! Our team of experts will work closely with you to understand your vision and create a steel patio design that seamlessly blends with the existing aesthetics of your home. We offer a wide range of customisation options to ensure your patio complements your home's style perfectly.
Do steel patios require a lot of maintenance?
Not at all! Steel patios are known for their low maintenance requirements. You won't have to worry about constant upkeep. A simple periodic cleaning is usually sufficient to keep your steel patio looking great.
Can you assist with obtaining council approval for our Colorbond steel patio project?
Absolutely! We provide complete solutions for our clients, including project management and assistance with council approval. Our experienced team will guide you through the entire process, ensuring all necessary permits and paperwork are taken care of efficiently.
What kind of warranty do you offer on your Colorbond steel patios?
We stand behind the quality of our workmanship, which is why we offer a 12-month warranty on all our Colorbond steel patio installations. This warranty gives you peace of mind knowing that we will address any issues that may arise within the first year after completion.
We love creating stunning spaces you can enjoy for many years.
Durability is the Key
Patios create exceptional outdoor living spaces. With their sleek and modern design, our patios effortlessly blend with natural surroundings, providing a seamless transition between indoors and outdoors.
A new patio can be the perfect addition to your home. Whether hosting a barbecue or enjoying a quiet evening alone, our Colorbond steel patios transform any ordinary space into an extraordinary outdoor living area.
In addition to their durability, our Colorbond steel patios offer endless customisation options to suit your unique style and preferences.
With a Colorbond steel patio from Home Improvement Packages, you have the freedom to design the perfect outdoor living space. One that reflects your personality and provides a sanctuary for relaxation.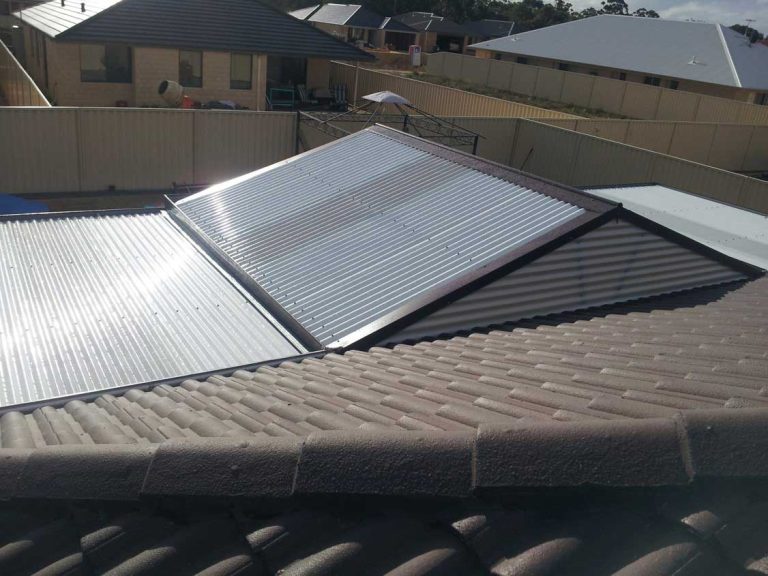 Fast Quote
Perth get a fast quote on steel patios today.